Dining Guide of Barcelona
This is our ranking of the 10 best restaurants in Barcelona. All of them have that little more that makes the difference even though they are not the most expensive of Barcelona
N° 1
Dos Palillos – Restaurant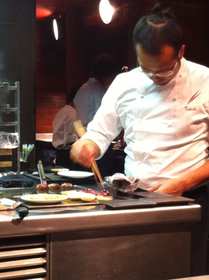 Address : C/ Elisabets, 9
Opening hours : Tuesday to saturday – Close sundays and mondays // On tuesdays and wednesdays: open from 7:30p.m. to 11:30p.m. // On thursdays, fridays and saturdays: open from 1:30p.m. to 3:30p.m. and from 7:30p.m. to 11:30p.m.
Phone : 933 040 513
Metro/Bus : Pl. Catalunya
Dos Palillos or when traditional spanish tapas get inspired by delicate savors of Asia…
Albert Raurich has been working at El Bulli from 1997 to 2007 where he was head chief for the last 6 years of his journey with Ferran Adrià … That is to say that he knows quite well about cuisine inspiration and innovation…
At Dos Palillos the chef decided to get his inspiration from the far east cuisine, that is mostly from Japan, China, Thailand and Vietnam. And what an inspiration!!
Imagine Asian savors married with Spanish traditional tapas and products like seafoods, fish, fresh vegetables of the market, prown, tuna, meat…
Imagine now tempura, raw dishes, woked dishes, steamed dishes, grilled dishes..
Albert Raurich's tapas are pure creativity and grace..
We loved fresh seaweed sunomono with molluscs,Japanese burger, meat Gyoza,Cantonese style Iberian pork, prawn steamed dumpling..
Two degustation menus at 55 and 75€ but they prefer to say one hour and half menu or two hours menu..
Lunchtime menu at 20€
N° 2
Moments – Restaurant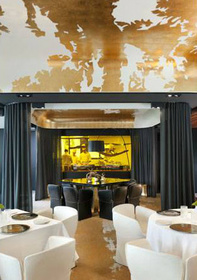 Address : Passeig de Gràcia, 38-40
Opening hours : Lunch: 1:30pm-3:30pm Tuesday-Saturday // Dinner: 8:30pm-10:30pm Tuesday-Saturday // Closed Sundays and Mondays
Phone : 93 151 87 81
Metro/Bus : Passeig de Gràcia,
In the brand new and beautiful Mandarin Oriental Hotel, the table on everyone's lips is with no doubt: Moments.
The Chef Carme Ruscalleda and her son Raül Balam are revisiting Catalan recipes and even inventing the first anti-aging menu of Barcelona..
On the Catalan side of the menu you will discover totally renewed classical dishes like Arroz caldoso de gamba con picada de pescador (rice dish with broth) –  Fricandó (veal stew) and suquet (fish stew) – Shrimp Tartar– Seabass with fig chutney and hibiscus salt – Veal Cheeks with turnip vegetable ravioli and red fruits..
A delight and lot of imagination!!
But even more visionary and trendy: a "anti-aging" menuwhere the food chosen by Carme Ruscalleda and Dr. Manuel Sanchez – head of the Anti-aging Unit Clinic Planas- , specialist in the anti-age treatments, conceal only the most miraculous properties to preserve an "iron constitution".
In this menu, mini pizza pies with artichokes and the Joselito ham, or macaroni with buckwheat accompanied by scallops and vegetables… a great idea!
A very chic venue already awarded by a Michelin Star in 2011..
N° 3
Arola – Restaurant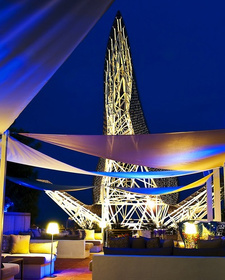 Address :
 Marina 19-21
Opening hours : 1:30-3:30pm and 8:00-11:30pm every day
Phone : 93 483 80 90
Metro/Bus : Ciutadella, Vila Olimpica
Arola restaurant in Barcelona is located on the second floor of the luxury Hotel Arts.
One comes there for its brand new pop design, its beautiful terrace in front of Frank Gehry's giant wale and great live music set with local DJs.
But not only!
Catalan chef Sergi Arola is a rising star of Spain's culinary world. Disciple of Ferran Adrià and Pierre Gagnaire, Sergi Arola offers here a fine "menú degustación pica-pica » that is a selection of tapas:
Patatas "Bravas de Arola", fritas y rellenas de salsa picante y recubiertas de alioli –  A "Tartar de Filet Mignon con infusión de soja y jenjibre" .. And many others hot and cold surprises.
This testing menu of tapas is at 50€
But you can also have main courses "A la carte"  that bring you to an upper level of the dexterity of the head chef with:
Lubina  (sea bass)  asada , emulsión de berros , cebolleta y pimienta rosa (28€) – Lomo de ternera perfumado en brasas, cereales y jugo ligero de setas  (28€)…
A well-stocked cellar offers over 900 wines..
This guy is magic !
Better book..
Find the latest menu on Arola's website
N° 4
Passadís del Pep – Restaurant
Address : Pla del Palau, 2
Opening hours : Monday to saturday from 1am to 4 pm and from 9pm to 0am // Closed on sunday
Phone : 93 310 10 21
Metro/Bus : Metro: L4 Barceloneta
No menu at Passadís del Pep but everyday a new selection of beautifully presented dishes, mostly seafood, certainly the best ones in Barcelona!!
Whatever is most fresh that day is what you get. Last time we were there, we had something like 7 or 8 dishes: clams, few kind of prawns, gambas, sea snail, squid, fried and crispy anchovies..
That is before to have to choose the mean dish: "carne o pescado"??
Take a fish this is the place for.
We forgot to tell you that usually you will drink Cava (the local Champagne).. A lot of Cava..
The place is known to be really hard to find – down a tiny passageway (a passadis) – but it's part of the pleasure to finally find a great "table"..
Hope you'll find it!
Reservations required.
N° 5
Can Vallès – Restaurant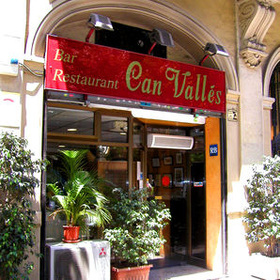 Address : Aragó, 95
Opening hours : From 1pm to 4pm and from 9pm to 12pm / Closed on Sundays and holidays
Phone : 932 260 667
Metro/Bus : Bus: 27, 41, 43, 44
As you are walking down Aragó street, next to Rocafort, suddenly you find a restaurant called Can Vallès.
One might think that he has bumped into another Barcelona's bar, and here comes the big mistake. This restaurant with, at first gland, simple appearance, has a lot to show us.
The quality, detail and care of the dishes is equivalent to the outstanding restaurants in the city. Recipes made with the best products on the market.
Some dishes: chickpeas with lobster, pork feet cannelloni, fresh seafood, meat served on a hot stone, fresh salads and some very nice tapas!
The desserts…? Try the cheesecake orchocolate cake with cinnamon ice cream.
And.. the best wines selection!
Do not forget to book in advance as this is a small but very popular place .
N° 6
El Vell Sarriá – Restaurant
Address : Major de Sarrià, 93
Opening hours : Tuesday to Saturday from 13:30 to 15:30h and 20:45 till 23:00 Sundays from 13:30 till 15:30h. Closed on Mondays
Phone : 932 045 710
Beautiful house situated in the quiet upper part of Sarria, divided into two floors and decorated in traditional style with rustic touches.
El Vell Sarriá menu: no frills, with a large role for the rice, almost all well treated (cod with vegetables, mushroom mountain, rib and sepia …).
Enjoy the rice 'Pelat' with prawns and clams in their quiet summer terrace…
To complete the menu, a number of starters that will help us snack while waiting for the rice, highlighting a good plancha (knives, clams, crayfish) and a few tapas typical from El Vell Sarriá, such as the sepietas with onions or the grilled vegetables with anchovies .
Alternatively and not negligible, its grilled fish (hake, cod, sea bass).
In desserts, our recommendation for a "drunk" sweet pie.
Correct wine, but it can be improved with a new references.
N° 7
Fonda Gaig – Restaurant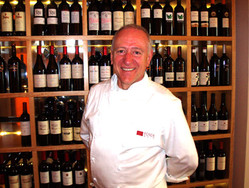 Address : Carrer Còrsega, 200
Opening hours : Closed on Sunday night
Phone : 934 53 20 20
At the Fonda Gaig the food is very traditionally Catalan, like that at Petit Comité, in a return to grandmotherly Catalan basics.
Carles Gaig and a growing number of top chefs are going back to simpler and more affordable food.
Gaig's traditional pastas are legendary: slender cannelloni with a decadent multimeat filling, and macarrones del cardenal, silky pasta tubes cloaked in a divine sauce of cream and onion sofrito under gratinéed Parmesan.
Look for standards such as botifarra amb mongetes de ganxet (sausage with white beans) or canelons de l'Avia (Grandmother's cannelloni) or pollastre de gratapallers a la casssola (stewed free-range chicken).
An interpretation of the traditional Catalan cuisine that has made Carles Gaig synonymous with top Barcelona dining since 1869, this new enterprise is making a place for itself in Barcelona's continous evolving cuisine.
A great destination for a long lunch or dinner, very relaxed, very Catalan and in a super comfortable ample dining room,  with red leather armchairs, careful soundproofing and mellow lighting.
N° 8
Petit Comitè – Restaurant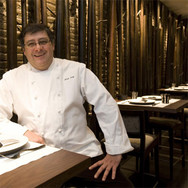 Address : Passatge de la Concepció, 13
Opening hours : Open daily 1pm-1am.
Phone : 935 50 06 20
Metro/Bus : Diagonal [L1, L3]
Traditional Catalan cooking by Fermí Puig, the Michelin-starred chef from Hotel Majestic's Drolma, is the theme in this contemporary design space, the Petit Comitè, serving around the clock from midday to midnight.
Local top chefs have started to move on…or back, as they return to the traditional dishes of the Catalan kitchen, reinventing old classics with great raw ingredients and improved techniques, treating your palate to new old specialties like poached eggs, stuffed breaded onions and traditional favorites including trinxat (chopped cabbage with potato and bacon) or caneloni amb béchamel de tòfona (canelonni with truffled béchamel) to the traditional dessert s like mel i mató (fresh cheese and honey),  crema catalana, pears in red wine and chocolate fritters.
It's only the food that's rustic, though – the interior is well up-to-date and keeps the rest of your senses firmly in a modern cosmopolitan setting.
This bistro is Puig's attempt to open up to a less élite public, serving more affordable versions of the Catalan classics.
Dishes are small and meant to be ordered in a tapas style
N° 9
Editor's choice : Tickets – Restaurant
Address : Avinguda Paral·lel, 164
Opening hours : Tuesday to Saturday from 7 p.m. til 11.30pm
Phone : 932 924 250
Metro/Bus : Metro: L3 Poble Sec
A new eatery in Barcelona by most prestigious Chef Ferran Adrià.
This time it's a tapas bar but of course not a traditional one. At Tickets tapas are innovative and creative like all avant-garde culinary ideas of Adrià.
The chef will not be cooking at Tickets but just around the corner to validate every new tapa..
Get ready to taste: 
Jamón de toro: Home-salting tuna belly painted with Iberian cured ham fat (12,50€), Spiced tomato tartare with crunchy bread (8,50€)
Steamed razor clams with ginger, Cayenne pepper and lemon air (11,20€), Liquid ravioli with Payoyo cheese (3,40€) / piece, Half roast bonito with garlic-sauce jelly (3,80€ /piece) and more..
Beware: Booking online is the rule to get a table.. No other way..
N° 10
El Quim – Restaurant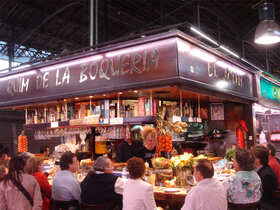 Address : La Rambla, 91
Opening hours : Tuesday to Thursday from 7am to 4pm / Friday and Saturday from 7am to 5pm / Closed Sunday and Monday
Phone : +34 93 301 98 10
Metro/Bus : Metro: Liceu (L3) / Bus 14, 38, 91, N9, N12, N15
El Quim de la Boqueria is truly a family business: mom, dad and son serve traditional catalan dishes around the bar when there is space.
Even the regulars have to wait for a place to sit, as El Quim is a stall in the most beautiful and bustling market in Barcelona: theBoqueria market.
Boquerones, chipirones, arroz negro.. From 3€ to 9€… Best tapas around..
If there is no table for you, go to Pinotxoanother tapas bar in the same Boqueria market.
Tweet