This district exists since 1860, after the demolition of the medieval ramparts. Today it is a vast commercial and residential district. Its perpendicular streets, give the city a new vision.
A small Museum in the open air, the square d'Or concentrates the biggest number of modernistic buildings in the city. Frontages of wood, glass, iron and ceramics : an architectural Delight.
Casa Calvet – Monument
Address : C. De Casp,48
Opening hours : Can not be visited.
Phone : + 34 93 412 40 12
Metro/Bus : Metro: L4 L1 Urquinaona / Bus: 17, 39, 45, 47, 62, B21
The Casa Calvet, built as a dwelling and offices for the textile manufacturer PereCalvet, is the first and least imaginative of the three houses Gaudí designed for Barcelona's Eixample (Extension).
The interest of the Casa Calvet centres on the imaginative resolution of the rear façade, the decoration of the hallway, and the design of the furniture, purely organic and breaking with everything before it.
What most calls attention on the façade are the symbolic elements. Over the door, the owner's initial, C; and supporting the main gallery, a cypress, symbol of hospitality. On the main storey, the relieves represent mushrooms, because Pere Calvet was a mycologist. Above the gallery, the horn of plenty. The three heads of the crown represent Saint Peter the martyr (Pere Calvet's patron), Saint Genesius of Arles and Saint Genesius of Rome, patrons of Vilassar, in el Maresme, where the family came from.
You can not visit the Casa Calvet in Barcelona but you can discover the very good restaurant Casa Calvet inside the building.
Passeig de Gràcia – Monument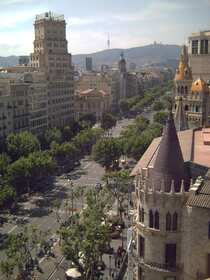 Address : Passeig de Gràcia
Metro/Bus : Metro: L3, L2, L5 Passeig de Gràcia and Diagonal / Bus: 7, 16, 17, 22, 24, 28
Passeig de Gràcia was from the beginning designed to be Barcelona's Grand Avenue. It is Barcelona's mostelegant avenue and one of the best architectural walks in the city with lots of Modernist buildings (la Casa Batlló, LaCasa Milà…). The quality and quantity of modernist buildings is unrivalled.
It's origins can be traced back to Roman times when it was a path that linked to the Via Augusta. In medieval times the city's door to this road was the Portal dels Orbs (blind people's gate), today the Portal del Angel pedestrian shopping area.
For the shopping:
 
Aside from being one of the best places to see Catalan Modernist architecture, this avenue is one of the major streets for shopping in Barcelona. All national and international fashion houses have their boutique here. Among prestigious designers, you will find Adolfo Dominguez, Loewe, Chanel, Yves-Saint-Laurent, Hermès, Laurel. Foreign brands, such as Ermenegildo Zegna, Max Mara, Escada and Armand Bassi stand beside Spanish ones such as Purificación García, Camper and Loewe. Even more accessible brands like Zara, Mango, Globe, Benetton and Laura Ashley.
Music Museum – Museum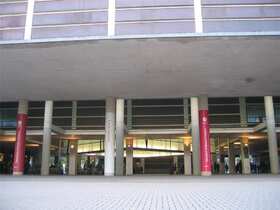 Address : C/ Lepant, 150
Opening hours : From 10 am to 6 pm. Sundays, from 10 am to 8 pm. Closed on Tuesdays and 1 January, Good Friday, 1 May, 24 June, 25 and 26 December
Phone : 00 34 93 256 36 50
Metro/Bus : Metro: Diagonal / Bus: 6, 7, 15, 20, 22, 24, 26, 34, 39, 45
The Music Museum of Barcelona located in an astonishing construction of architectPuig y Cadafalch.
Significant collection of guitars among other rare instruments.
Casa Milà – Monument
Address : C. Provença, 261-265.
Opening hours : Winter: Monday to Sunday from 9 am to 6.30 pm (last entrance at 6 pm)/ Summer: Monday to Sunday from 9 am to 8 pm (last entrance at 7.30 pm)/ Colsed 25th and 26th December, 1st and 6th January
Phone : +34 934 84 59 00
Metro/Bus : Bus: 7, 16, 17, 22, 24 and 28. Metro: L3 Diagonal
After the Sagrada Familia, Casa Milà or "la  Pedrera" as it is often called, is probablyGaudi's second most popular building inBarcelona.
Casa Milà covers an area of more than 100 square meters and includes two large circular patios, so that almost every part of the house gets its share of sunlight.
It is constructed entirely in natural stones, and lacking all the colors and ornamentation design. Maybe one of the most interesting places of the whole complex is the rooftop: here you can find a large ensemble ofsurrealistic chimneys all looking different and like sculptures standing there alone or in small groups, dominating the rooftop.
Manzana de la Discordia – Monument
Address : Passeig de Gracia, 43
Opening hours : Casa Batllo: Everday from 9am to 9pm
Phone : Casa Batllo: 00 34 +34 93 488 06 66
Metro/Bus : Metro: L3 Passeig de Gràcia
Casa Lleo Morera. Tel : 93 488 01 39. Mondays to Saturdays from 10h to 19h. Sundays from 10h to 14h.
Casa Batllo. Tel : 93 21 03 06. All days from 9h to 20h.
Casa Amatller. Can not be visited.
Manzana de la Discordia (Apple of discord) is a contemporary pun playing with the word "manzana " meaning at the same time "block of houses" and apple. In the same block of buildings, the three most important architects of the moment: Puig I cadafalch,Domènech I Montaner and Gaudi. Three palaces, three different styles and three different architects is the result of our big pleasure today.
Antoni Tàpies foundation – Museum
Address : Aragó, 255
Opening hours : Tuesdays to Sundays from 10am to 7pm // Closed 25 and 26 December, 1 and 6 January.
Phone : +34 934 870 315
Metro/Bus : Metro: L3 Passeig de Gràcia
The Antoni Tàpies foundation was created by the Catalan painter  Antoni Tàpies in 1984 to promote the study and understanding of modern art and culture.
Of course you will find works from all periods of the artistic development of Antoni Tapies. You will appreciate the beautiful library devoted to modern literature and documentation on the art and artists of our century.
The foundation is housed in a building by the modernista architect Lluís Domènech i Muntaner.
The roof terrace alone is worth a visit.
After 2 years of architectural reforms by the firm of architects Ábalos-Sentkiewicz, the foundation was reopened in March 2010 with renewed exhibition spaces in order to recuperate the industrial character of the building and a new entrance to the museum to improve the areas of reception and bookshop… To see!!
 Avinguda del Tibidabo – Monument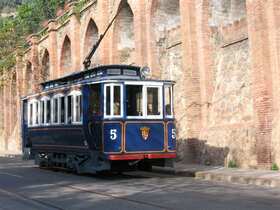 Address : Avinguda del Tibidabo
Metro/Bus : Bus: 73, 123, 196
On both sides of this avenue there is aModernist urban development from the beginning of this century, which was created by the chemist Dr. Andreu.
There are some very interesting villas by several different architects. The so-called "Tramvia Blau" (blue tram) goes up this avenue and is the only one of its kind left in Spain.
Park Guell – Monument
Address :
 Carrer D'Olot
Opening hours :
 November to February from 10am to 6pm – March and October from 10am to 7pm – May to August from 10am to 9pm
Phone :
 (34) 93 413 24 00
Metro/Bus :
 Metro: L3 Lesseps / Bus: 24 – 31 – 32 – 74 – 92
Gaudi's patron, Eusebi Guell, planned a suburban "city." His property was high above Barcelona, northwest and some distance from the city. More than 60 housing plots were allocated although only two homes were built on the property. The project was radical for its time and, as a real estate project, was a failure. The Barcelona City Council bought the property in 1922 and in the following year converted it to a municipal park.
Gaudí avoided levelling the grounds so that the Parc Güell has a network of twisting roads which follow the contours of the land.
The lowest point is the entrance, from which a double staircase leads to the hypostyle chamber, the ceiling of which serves as the floor of the huge public square.
Outlying areas have imaginative viaducts and colonnades, which in their design evoke natural forms.
Tweet